Learn how and why Springbak® Insoles work
How and why do they work?
Regular insoles do their job very well; they cushion, give support, and absorb moisture. But, they break down rapidly, losing cushion where it is needed most, at the ball of the foot and the heel, where the body's weight is supported. They seldom last longer than a pair of shoes.
Springbak® Springsoles are made from a highly resilient "superball"-like material. The 80% energy-return in the Springsole is created when the wearer's body weight comes down and compresses this material, then releases the 80% energy-return back onto the wearer at push-off as Springbak® Springsoles spring back to their original shape.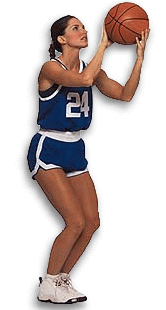 Springbak® is the world's leader, with it's cutting edge scientific progress for athletic insoles (which are really platforms in the shapes of insoles) which are designed to fit any athletic shoe, which enables an athlete to draw more energy from their own body, thus enabling them to maximize their own muscle potential for training and competition. Plus another feature which is a by-product of the research is Springbak® patented "recoil" process, which totally eliminates shin splints while reducing fatigue and recovery time.
However, Springbak® Springsoles are primarily made to improve athletic performance while also adding greatly to the shock-absorption of ordinary insoles. This is what they are designed to do and that's why the patents were issued.
Springbak® Springsoles do just two things: they compress and then they spring back. Because of the 80% resilience, they do not lose their spring-back quality over time. Regular insoles take the wear and tear of the foot directly, not the Springbak® Springsoles which can last through several pairs of shoes.
Springbak has been issued four patents:
Patent issued: July 8, 2003
Validation of Strength, Balance, and Stability Enhancements

Patent Issued: Sept. 19, 2000
Validation of Speed, and
Jumping Enhancements

Patent Issued: December 9, 1997
Validation of Speed, and
Jumping Enhancements

Patent Issued: Sept. 10, 1996
Validation of Speed, and
Jumping Enhancements
Ready to order?
Try Springbak® Springsoles risk free for 30 days. – $24.95
If you are not 100% satisfied for any reason we will refund your money…no questions asked.
Want to know more? Call us at 951-277-3000 or email us.
We've got all the answers about Springsoles you ever will need!