Lost the Spring in Your Legs?
Try Springbak® Springsole insoles…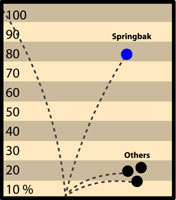 Springbak® Springsoles will help you get it back – Springbak® has proven to return over 3 times more energy than the leading insole. That means you'll achieve better performance and less fatigue, from the first time you experience your Springbak® Springsoles .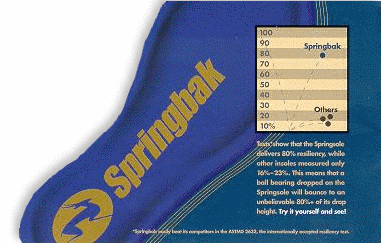 Tests show that Springbak® Springsoles will consistently deliver an astounding 80% resiliency. Other insoles measured only 16%-23%.
This means that a ball bearing dropped on the Springbak® Springsoles will bounce to an unbelievable 80% of its drop height!
When inserted, Springbak's patented Springsole insoles always increase core body strength immediately, by raising the Vibration Frequency of the human body, thus increasing the speed of the body's electromagnetic system. This in turn speeds up your body's electrical currents which are the vehicles that send messages to the brain & back to the muscles, thus allowing you to pull more energy from your own power plant – the human body.
Ready to order?
Try Springbak® Springsoles risk free for 30 days. – $24.95
If you are not 100% satisfied for any reason we will refund your money…no questions asked.
Want to know more? Call us at 951-277-3000 or email us.
We've got all the answers about Springsoles you ever will need!