Springbak Springsoles 2009 Stocking Stuffer Giveaway
By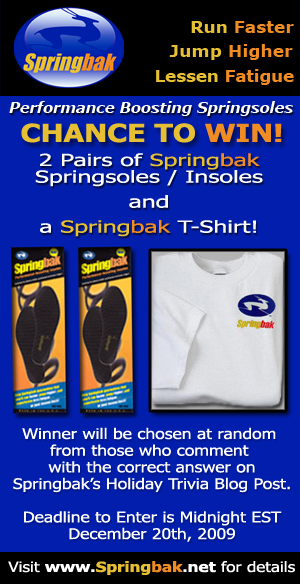 Springbak is getting into the ho-ho-holiday spirit, and what better way to celebrate the season than by giving you a chance to stuff your stocking (or someone else's) with a special prize from Springbak!
SPRINGBAK TRIVIA QUESTION:
Who is the founder of Springbak Springsoles?
How to play:
You can participate and be eligible to win by commenting on this page with the correct answer to our Springbak trivia question (above).  The winner will be chosen at random from those who submit the correct answer. Deadline to submit your comment is 12 Midnight EST on Tuesday, December 20th, 2009.
Hint: The answer can be found on the Official Springbak® website at www.Springbak.net
Go ahead…. Take your best shot!
Good luck!
___________________
Visit the Official Springbak® Website at www.springbak.net
Performance Boosting Springsoles / Insoles – Run Faster, Jump Higher, Lessen Fatigue