Take Your Best Shot in the Springbak 2010 NBA Playoff Finals Prediction Challenge
By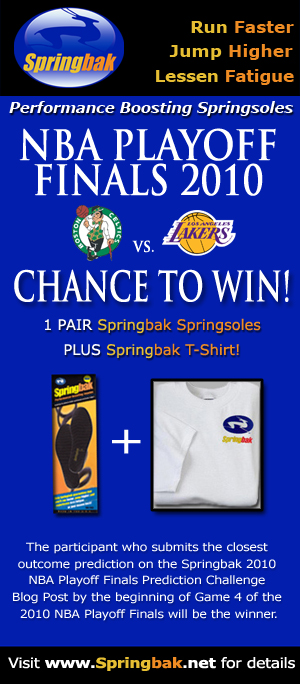 It's time to take your best shot in the Springbak 2010 NBA Playoff Finals Prediction Challenge!
Springbak Inc. wants your predictions in the 2010 playoff finals series – Comments, thoughts, opinions and answers from both Laker fans and Celtic fans alike!
Springbak will be giving away One Pair of Springbak Springsoles AND a Springbak T-Shirt to the one person who predicts the outcome of the series the closest.
Your goal is to predict:
1) How many games the series will go
and
2) How many points the winning team will beat the other team by in the last game
We look forward to your comments and good luck to everyone that answers this post!
Only one vote/comment per e-mail address please.
To be eligible to win, comments must be submitted to this blog post prior to the start of the Game 4.
So, who will take the title this year?
Have fun and GOOD LUCK!
For more information:
Visit the Official Springbak® Website at www.springbak.net
Peak Performance Springsoles / Insoles – Run Faster, Jump Higher, Lessen Fatigue