Springbak Inc. sponsors Costa Rica National Volleyball Team
By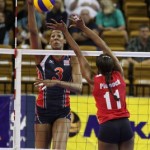 Springbak Inc. has just sponsored Costa Rica National Volleyball team for the 2009-2010 seasons with their performance volleyball insoles.
Costa Rica opened the recent FIVB World Championship qualifier in Florida with 3-0 victories over Barbados and the Netherlands Antilles National Teams and took 2nd place in the qualifier. This qualifies Costa Rica for the FIVB women's World Championships in 2010 in Japan. USA national team took the 1st place spot.
"We are proud to sponsor the Costa Rica National Team for the next 2 years and working closely with their coaches and trainers to do our part in performance athletic footwear for their athletes". Mark Vona – GM Springbak Inc.