Springbak predicts Lakers over Magic in 6 games!
By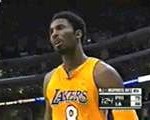 Does Kobe Bryant wear Springbak Springsoles? Rumor has it. Ok, the answer is no, but we wish we could afford his endorsement! However, several pro athletes do wear our patented high performance shoe insoles.
Lucky to have a second chance, the Los Angeles Lakers grabbed it. Kobe Bryant and Co. held on and are in control of the NBA finals-just barely. If Orlando doesn't come back and win a game in the series, Lee's miss may go down as one of the biggest gaffes in finals overtime history.
Springbak Inc. wants your predictions in this series, comments, thoughts, opinions and answers from both Laker fans and Magic fans alike! Springbak will be giving away a one pair of Springbak Springsoles and a Springbak t-shirt to the one person who predicts the outcome of this series the closest. How many games it will go and how many points will the winners beat the other team by in the last game. We look forward to your comments and good luck to everyone that answers this post! One vote/comment per e-mail please. All comments must be in prior to start of last championship playoff game.