Archive for February, 2012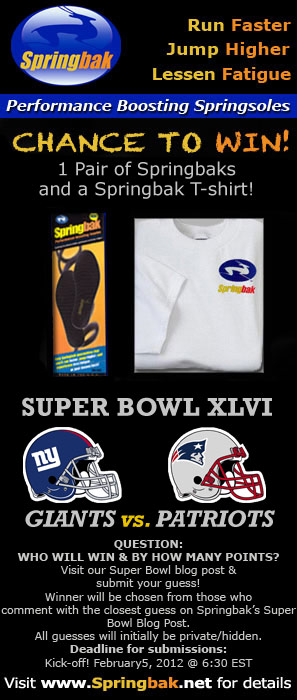 SUPER BOWL XLVI – GIANTS vs. PATRIOTS
CHANCE TO WIN 1 Pair of Springbak Springsoles and a Springbak T-Shirt!
QUESTION:
WHO WILL WIN SUPER BOWL XLVI & BY HOW MANY POINTS?
Submit your guess by commenting below!
The person who submits the closest guess on this blog post for the question above will be the winner and he or she be notified by email. All guesses will initially be private/hidden and publicized after the game has completed.
Deadline for submissions:
Kick-Off! February 5, 2012 at 6:30PM EST
(Direct link to blog post:
https://www.springbak.net/blog/super-bowl-contest-springbak-wants-to-know-who-will-win-super-bowl-xlvi/)
Thanks for playing along and GOOD LUCK!
The Team @Springbak
https://www.springbak.net/

_____________________________________
Rule the net with Springbak!
Facebook.com/Springbak
Twitter.com/Springbak
MySpace.com/Springbak