Springbak Inc. Wants To Know Who Will Win The Super Bowl XLIV
By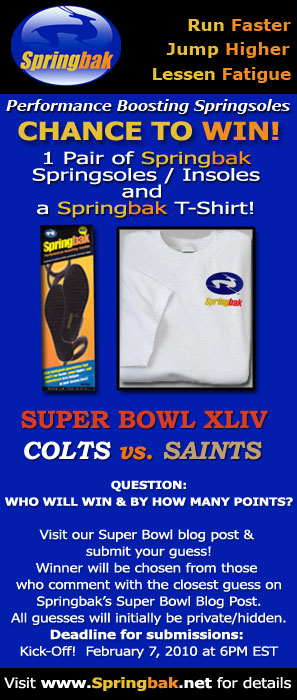 SUPER BOWL XLIV – COLTS vs. SAINTS – CHANCE TO WIN 1 Pair of Springbak Springsoles / Insoles and a Springbak T-Shirt from Springbak, Inc!
QUESTION:
WHO WILL WIN & BY HOW MANY POINTS?
Submit your guess by commenting below!
Winner will be chosen from those who comment with the closest guess posted on this blog post.
(Direct Link: https://www.springbak.net/blog/springbak-inc-wants-to-know-who-will-win-the-super-bowl-xliv)
All guesses will initially be private/hidden and publicized after the deadline has passed.
Deadline for submissions:
Kick-Off!  February 7, 2010 at 6PM EST
Thanks for playing along and GOOD LUCK!
________________________
Springbak Staff
https://www.springbak.net/